Open House in Warsaw Montessori School
Everyone interested in taking part in recruitment to Warsaw Montessori School for the 2023/2024 school year is invited to participate in our Open Day, which will take place on
9th Feb 2022, Thursday at 6 pm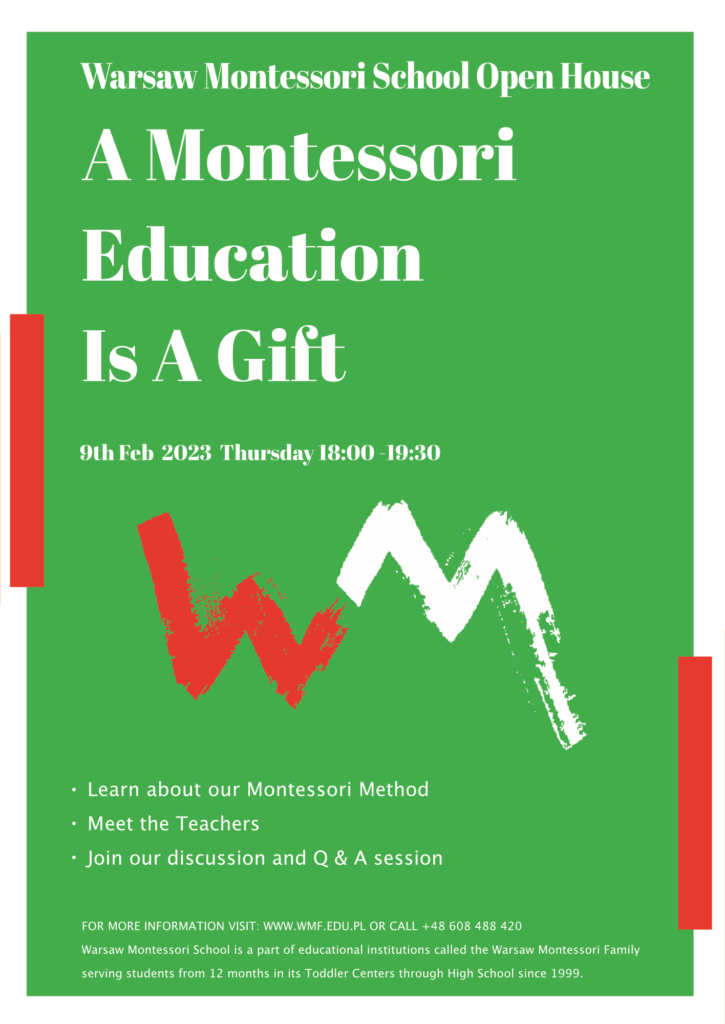 During the Warsaw Montessori School Open House, Prospective Parents will:
– meet the Administration Team and Teaching Staff,
– discover the Montessori method through the eye of our Team,
– hear about the main features of a Montessori Education, Role of the Teacher, Freedom and Discipline, Interdisciplinary Learning, Multi-Aged Classrooms, and how the main Languages –English and Polish are part of the daily work plan,
– see the beauty of the Montessori Materials and Classroom Set-Up,
– participate in a Q&A with the Administration Team and Teaching Staff.
Save the date!
Warsaw Montessori School is a part of the family of educational institutions called the Warsaw Montessori Family
WMF– a bilingual Montessori school is adapted to each stage of a child's development – a nursery, kindergarten, primary school, Montessori Farm School with a residential aspect, and a high school with the IB program.