Info / Admissions
Warsaw Montessori School campus for grades 0-4
at Szwoleżerów 4 street
Why Montessori ?
Dr. Montessori believed that children in different age groups learn in very different ways and therefore each stage in the Montessori program has been designed with a specific age group in mind. The early elementary child (6-9 years old) wants to know everything about our world and their place in it. This inner curiosity is a wonderful attribute which can help the child develop a love of learning. The goal of the Montessori elementary program is to educate the child for life. This is accomplished by:
Helping the child become a learner independent of adult intervention.
Developing within the child a love of learning and an understanding of how to learn.
Building self-esteem in a secure and success-orientated environment.
Providing the child with an environment in which to develop healthy social relationships as well as skills such as peaceful conflict resolution.
Instilling a respect for all living things and how everything is interconnected.
Giving the child a sense of belonging to his time and place in the world, community, and home.
The Montessori integrated curriculum is one of the major advantages of a Montessori education. The child discovers how concepts and real world experiences are interrelated through literature, science, art, nature, history and math.
Montessori teachers recognise and encourage the uniqueness of each child and because of this the child engages in work that is suited to his own readiness and learning style.
Warsaw Montessori School  is a part of the family of educational institutions called the Warsaw Montessori Family.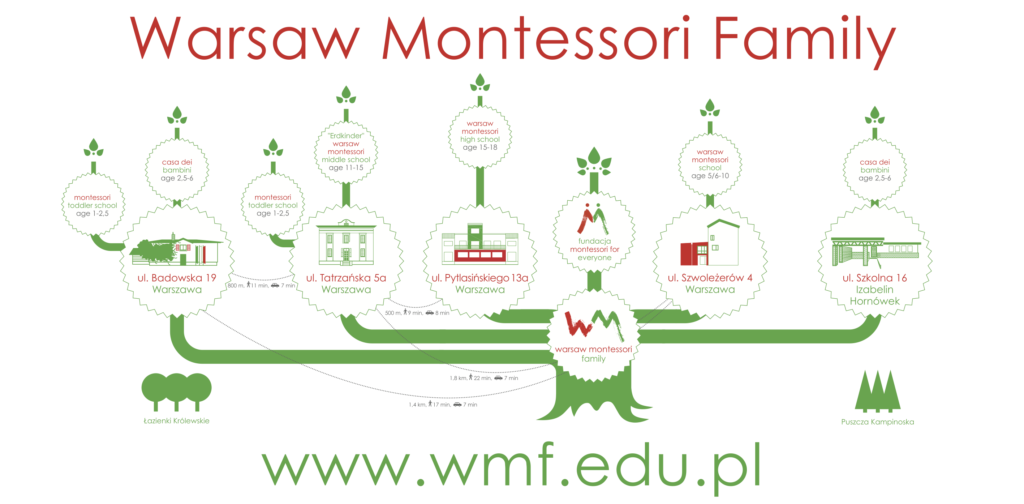 Hours of Operation
The school is opened Monday through Thursday from 7:45 a.m. – 5:00 p.m. and from 7:45 a.m. – 3:00 p.m. Friday. Homeroom classes will begin at promptly 8:15 a.m. and continue through to 3:00 p.m.  Additional club classes extend the day until 4:00 p.m.  From 4:00-5:00 we provide  reading and relaxing time.
School materials
The school materials consist of standard tools for educating a child based on the curriculum for elementary learning as approved by the Minister of Education. In addition, didactic materials from NIENHUIS which are accredited by international Montessori organisations such as AMI, AMS and NAMTA. In the Montessori classroom the children are not required to sit at a desk for an extended period, rather they are able to choose their work from the many materials provided. They experience the concepts that they are learning about in a very concrete and hands-on way, by performing experiments and making discoveries for themselves. The materials are designed in such a way so as to guide the child in making these discoveries.
The school offers many extra-curricular activities such as: 
foreign language clubs: French and German,
individual piano and violin lessons
drama and public speaking classes
sport classes (joga, aikido, football, chess)
dance classes (ballet, bollywood, ballroom dance, hip-hop)
art classes (painting, scetching, ceramics)
music classes (choir, ukulele, cymbals)
roller skis and roller skating,
ice skating, skiing and

 

more.
Catering
We provide a catering service with PPUH Żak – Catering which serves a nutritious and well balanced, tasty meal.  PPUH Żak – Catering is well known throughout Warsaw and caters to other local schools as well.
We've worked together with our caterer, a pediatrician and a nutritionist to create a healthier lunch menu with low fat contents, low sugar, less dairy, no preservatives, fewer meat dishes and have added a daily fruit and salad bar.
Transport
Transport is provided by Wolf Transport; better known as Mr. Artur's bus service. Mr. Artur has transported students to and from school for many years. He has a long work history with WMS. His safety record ensures that we endorse his company to make sure your child arrives to school and home safely.
School counselor,  psychologist and speech terapist
Our School counselor and psychologist are a qualified members of the WMS team that supports the children to succeed academically, socially, behaviourally, and emotionally. Together with families, teachers and  school administrators they create a safe, healthy, and supportive learning environment that strengthens connections between home, school, and the community.
Our school also provides a certified speech- language therapist who works closely and one-on one with our children who may have different levels of speech, language or/and communication development.
Enrollment
If you would like to obtain detailed information concerning the Montessori method and the activities of our school, please visit us upon prior arrangement by telephone:
Judith Luman, Head of School
+48 606-276-112
 judy @warsawmontessori.edu.pl
and
Natalia Kłos, Administrative Director
elementary@warsawmontessori.edu.pl
Complete the Application Form_Elementary and please include a current photo of your child.
We also invite you to read the articles about our Montessori schools and philosophy on the Warsaw Montessori Family website.